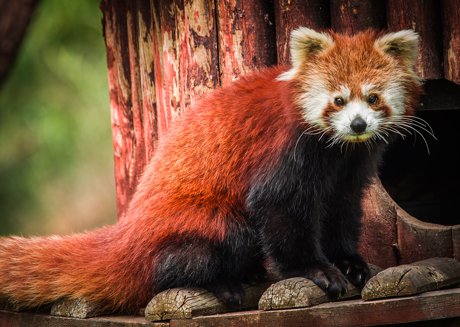 Fargo real estate is a bit wild at the Red River Zoo. Located at 4255 23rd Avenue S, this little zoo brings some of the world's most interesting creatures into the spotlight. Intending on keeping habitats as genuine as possible most of the animals living on site flourish in climates similar to that of Fargo. A quaint collection of mammals, birds and reptiles thrive on just over 20 acres of luscious landscapes. Visitors enjoy picturesque grounds as they greet a variety wonderful creatures from different parts of the globe.
Meet and Greet Exotic Animals Calling Fargo Home
Over twenty acres of Fargo real estate waits to be explored. Exotic Chinese Red Pandas look cute and cuddly and appear to be bundled up just right for winter. As a result of successful conservation efforts, offspring of the resident red pandas can be found in other zoos nationwide. Grey Wolves are majestic and impressive. This local pack features two adults and four pups. Their antics are sure to remind many of the playful tailwaggers waiting back at the house. North American Otters are notorious for amusing antics. Slip sliding all over the place otters easily earn laughs from random audiences. Cat lovers find the Pallas' Cats exhibit a purrfect place to visit. These beautiful felines hail from Central Asia and grow to be roughly the same size as a house cat. Feathers are ruffled when taking a look at the birds. A variety of winged beings vie for attention with chirps and cackles. In the Asian Aviary and North American Marsh feeding stations bring flocks to the forefront.
Get to know the animals calling Fargo home from those who know them best. Keeper chats teach guests all about the uniqueness of favorite species. A line up of times and animals scheduled is available at the Admissions Counter. Animal ambassadors love the limelight and help educate the public about the need for conservation and protection of the environment. Outreach animals include a glorious Blue and Gold Macaw, charming African Pygmy Hedgehog and amazing Inland Bearded Dragon. Come get to know them all. Hours to the Red River Zoo change seasonally and can be found here.